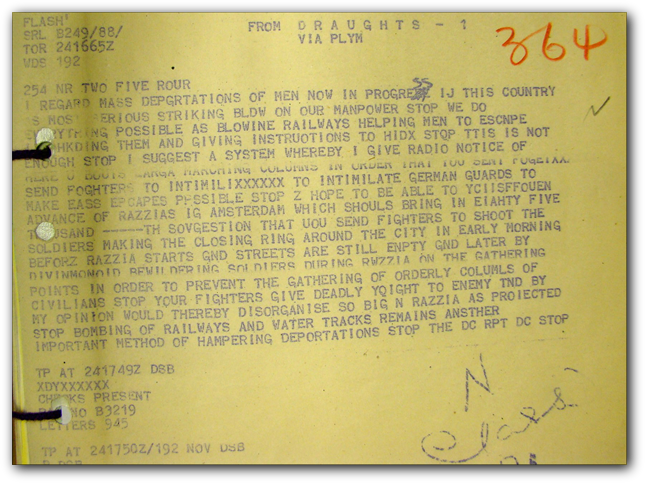 TELEGRAMMEN.
FLASH
SRL B249/88/ FROM DRAUGHTS - 1
TOR 241665Z VIA PLYM
WDS 192

254 NR TWO FIVE FOUR
I REGARD MASS DEPORTATIONS OF MEN NOW IN PROGRESS IN THIS COUNTRY
AS MOST SERIOUS STRIKING BLOW ON OUR MANPOWER STOP WE DO
EVERYTHING POSSIBLE AS BLOWING RAILWAYS HELPING MEN TO ESCAPE
..... HIDING THEM AND GIVING INSTRUCTIONS TO HIDE STOP THIS IS NOT
ENOUGH STOP I SUGGEST A SYSTEM WHEREBY I GIVE RADIO NOTICE OF
WHERE ABOUTS LARGE MARCHING COLUMNS IN ORDER THAT YOU SENT FOGEXXX
SEND FIGHTERS TO INTIMILIXXXX TO INTIMIDATE GERMAN GUARDS TO
MAKE EASY ESCAPES POSSIBLE STOP I HOPE TO BE ABLE TO INFORM YOU IN
ADVANCE OF RAZZIAS IN AMSTERDAM WHICH SHOULD BRING EIGHTY FIVE
THOUSAND ????? TH SUGGESTIONTHAT YOU SEND FIGHTERS TO SHOOT THE
SOLDIERS MAKING THE CLOSING RING AROUND THE CITY IN EARLY MORNING
BEFORE RAZZIA STARTS AND STREETS ARE STILL EMPTY AND LATER BY
DIVING..... BEWILDERING SOLDIERS DURING RAZZIA ON THE GATHERING
POINTS IN ORDER TO PREVENT THE GATHERING OF ORDERLY COLUMNS OF
CIVILIANS STOP YOUR FIGHTERS GIVE DEADLY FRIGHT TO ENEMY AND BY
MY OPINION WOULD THERBY DISORGANISE SO BIG N RAZZIA AS PROTECTED
STOP BOMBING OF RAILWAYS AND WATER TRACKS REMAINS ANOTHER
IMPORTANT METHOD OF HAMPERING DEPORTATIONS STOP THE DC RPT DC STOP

TP AT 241749Z DSB
XDYXXXXX
CHECKS PRESENT
????? B3219
LETTERS 945

TP AT 241750Z/192/ NOV DSB
D DOB
Dit telegram is afkomstig van Henri Koot (DC) en is via Draughts (Tobias Biallosterski) door Pieter de Vos (zendschema Plym) verzonden op 24 november 1944. Men verwacht een grote razzia in Amsterdam van dezelfde omvang als die van Rotterdam. Koot vraagt Londen om middels beschietingen door jachtvliegtuigen deze razzia te verstoren.
Dit telegram bevat 192 woorden (groep van 5 tekens), bij een seinsnelheid van 20 woorden per minuut duurt het dus ongeveer 10 minuten om dit bericht te verzenden. Dit is dus 4 minuten boven de veiligheids norm van 6 minuten, maar duurt ook weer niet lang genoeg om uitgepeild te worden. Dit duurde ongeveer 14 minuten.