Brussel - Parijs - Gibraltar.
Op vrijdag 12 mei 1944 komt Tobias opnieuw in Parijs aan. Om naar Spanje te reizen gebruikt hij dezelfde escape-line als Ides Floor, de VIC/DODGE line. Floor reist over de weg naar Toulouse, waarschijnlijk met een auto, of meerdere auto's etappegewijs. Tobias verplaatst zich met een gids en de Belg Danhaive per trein, zij komen daar op woensdag 17 mei aan.
Op dinsdag 23 mei komt hij in Perpignan aan. Hier zouden twee Belgen en een Nederlander op hem wachten alvorens de Spaanse grens over te steken, deze drie zijn echter gearresteerd. Hierop besluit Tobias naar Toulouse terug te keren. Hij wacht hier twee weken en reist vervolgens per trein op zondag 11 juni via Tabres naar Montrejeau aan de voet van de Pyreneen.
Vijf dagen later is hij in Spanje en wordt op weg naar Barcelona gearresteerd samen met drie Belgen en twee Amerikanen. Onder politie begeleiding wordt de groep naar Barbastro gebracht waar Tobias op woensdag 21 juni de gelegenheid krijgt om zich met de Vice Consul in Saragossa contact op te nemen. Dezelfde dag komt de groep in Huesca, de provincie hoofdstand aan. Hier krijgt men de gelegenheid zich met de Britse Consul in verbinding te stellen en deze draagt zorg voor transport naar Saragossa.
Op donderdag 29 juni komt men in Saragossa aan en reist de volgende dag door naar Madrid. Tobias schrijft hier een voorlopig rapport over zijn missie in Nederland.
Zaterdag 8 juni komt Tobias in Gibraltar aan en vliegt enkele uren na aankomst door naar Engeland waar hij op zondag 9 juni aankomt.

Al met al heeft deze missie 100 dagen in beslag genomen, waarvan slechts 19 in Nederland.


Klik op
overzicht
om een indruk te krijgen met wie Tobias contact heeft gehad tijdens deze missie.
Traject Tabres - Montrejeau en vervolgens te voet de Pyreneen oversteken.
Traject Barbastro Huesca, in Lleida was een berucht kamp waar vluchtelingen opgesloten werden.
Begin 2014 komt er meer informatie binnen over de reis van Tobias, met name over de periode dat hij door Frankrijk reist. Zijn alias duikt in verschillende telegrammen op. Ten eerst is er het derde telegram van
GLOVE
uit Brussel dat Tobias op vrijdag 12 Mei weer naar Parijs reist. Dit telegram is echter pas op donderdag 18 Mei verzonden. Dezelfde dag stuurt
REMBRANDT
een telegram naar Londen waarin Tobias met zijn alias
BRUIN
genoemde wordt.
DF JULIEN STOP REMAIN BRUIN JE SUIS BRUIN STOP IK DAME ROUSSUAX
KJRRETEE (ARRETTEE?) HONNER (DONNER?) SI POSSIBLE NOUVEAU CONTACT POUR CONTINER
KFFAKRE STOP EMMHI(X)NS DEUX AVIATEUR AMERICAIN SUIVANTS
POUR LUI VERIFIER SI RADIO WALTER WILLIAMS TROIS SEPT CINQ
QUATRE NEUF SIX NEUF TROIS (37549693) BOX TROIS DEUX UN (321) RUGBYN DAKOTA
ACYEZ LUI VOUS CINQ RODE AVEX DRAPEAU AMERICAIN ET SI LIEUTENANT DOUGLAS EAMES
ZERO HUIT ZERO ZERO ZERO SEPT UN (0800071) QUATORZE (14) BEYCON STREET HYDE PARK
BOSTON MASSACHUSETS AU NFOERE JIMMY LNNTLEFLIRT(U)SEPREN MONE CHERRY
TRENTE CINQ (35)

Dit telegram is waarschijnlijk afkomstig van een operator in Toulouse, Tobias is namelijk op 17 Mei in Toulouse gearriveerd. Hij blijft hier enkele dagen en komt op 23 Mei in Perpignan aan. Het onderstaande telegram geeft aan dat Tobias dezelfde dag vanuit Perpignan weer teruggaat naar Toulouse.
FR ANDRE, RONALD ET UN BELGE ARETTE FRONTIERE STOP DEUX BELGES
UN HOLLANDE REVIENNEAT A GGG STOP SUITE ARRESTATION VICTOR
HALGRE CONFIANCE NECESSAIRE BRULOR BBB MAINTIENDRONS JUSQUA
NOUVELLES ADRESSES ANCIENS CONTACTS STOP FINANCES ET TEURRIER
BRULES DESWITE LOUIS MAINTIEN TEGROSENNUIS STOP TROIS SIX (36) STOP
GERRY RUNS A WIRELESS STATION IN MY NEIGHBOURHOOD RUE CONSTANTINE
GGG THREE HORIZONTAL AERIALS SEVERAL VERITAL WIRES ON ROOF COULD
THIS BE A DF REPEAT DF (Direction Finding) STATION ONE FOUR (14)

In het volgende telegram wordt aangegeven dat Tobias de grens met Spanje gepasseerd heeft, het is nog niet helemaal duidelijk welke route men genomen heeft. Volgens de Escape and Evasion reports van de twee Amerikanen werden zij in Toulouse op de trein gezet en reden vervolgens naar Montrejeau. Per fiets ging men verder tot er verder gelopen moest worden. Volgens een van hen duurde de tocht door de Pyreneen zeven dagen, terwijl men nog twee dagen in een grot heeft doorgebracht wachtend op vervoer per auto naar Barcelona. In de buurt van Graus zou men aangehouden zijn en door de politie naar de gevangenis zijn gebracht. Waar deze stond wordt niet vermeldt.

Klik hier voor het
Escape & Evasion schema van Tobias.
FR ANDRE CIRCUIT CLERMONT FERRAND DELPECH
ANCIENNEMENT JERTHON QUARTIER DU PONT AU MUR A COTE
GENDARMERIE STOP FIVE THREE (35) DEUX EBCQONBEWNEFFILLE
PARTIS LE VENGT SIX JUIN STOP BRUIN, TROIS BELGES ET DEUX AMERICAINS
ARRIVES EN ESPAGNE STOP LAST BROADCAST HEAD ONE FIVE FIVE (155) XX

De twee Amerikanen die in dit telegram genoemd worden zijn Norman V. Pero (
32548143
) uit Rochester, Monroe County, New York en Richard H. Elliott (
18227025
) uit Harris County, Texas. Beiden schreven een zogenaamd Escape & Evasion report na te zijn teruggekeerd in Engeland. Hier onder een transcriptie van het rapport van Norman Pero, waistgunner op een bommenwerper van het 401 Bomb Squadron van de 91ste Bomber Group (H):

"My ship was shot down on March 20th 1944 over NW France by an FW-190 while on a mission to Frankfurt. I made a delayed jump from about 10.000 feet, opening my chute at 2000 feet. I followed the waist gunner but passed him on the way down. I landed, hid my chute, and immediately started walking SE by compass. I asked several people for help when I had gotten clear of the area, but they either could not understand me or were unwilling to assist. About three hours after I started walking I encountered a man who understood English, and from here on my journey was arranged".

Sgt. Pero came down in 21 March 1944 a short distance north of Auffray. He walked to the outskirts of Auffay where he met a man who spoke English. He said that he had been an interperter during the last war. He was middle-aged, of heavy build, cleanshaven and about 5'9" tall. This helper took him to a friend's farm and put him in a hayloft, where his heated suit was taken by Frenchmen. From here he was taken on foot to the interperter's house in Auffay. The interperter gave him a civilian sweater and kept him there for the night, taken him by train to Rouen the next morning. They went to a cafe, apparently the headquaters of an organisation, where the interperter left him. the cafe owner was a short man with a moustache, of medium build, about 45 years old, who owned a Ford truck. At sundown the cafe owner took him to a house in Rouen which was owned by an old man and his wife. The next night he was taken to a warehouse presided over by a man with a wooden leg. Thence he was taken to the house of Ralf Henning, 10 Rue de Poisson. Hennig's sister took care of Sgt. Pero for 6 or 7 days. he was told by these people that he would be returned to the UK by plane. Henning took him by train from Rouen to Formerie and thence on foot to Vergenet where he was left at a farmhouse where he stayed 7 days with the farmer and his family. He believes their name was Luc. After 7 days a young man, about 21 years old, who seemed to be the head of the organisation (black curly hair, 5'11", medium build, carried a gun) came to give Pero an identity card for paris, ration stamps and cigarettes. They took bicycles to Bois de Puits where they sent the night in a farmhouse. Next day the organisation leader gave Pero a gun and took him by motorcycle to Le Caule, where he stayed in a butcher's house for one day. Here he met Sgt. Elliott. Sgts Pero and Elliott were taken to Mortemer by motorcycle and thence to Neufchatel by horse and buggy. The spent the night at a lumbercamp where they were questioned as to their identity by a onelegged men who treated them very kindly. Next day they went by bicycle to Bully where they stayed at the house of a Mme. Dumont for 10 days. Sgt. Faulkner another American Air Force evader, joined them here. A helper Jean Macron came from Paris and took all three evaders to Paris by train. Macron took them to his house for two days and made up identity cards for them, it being found that their previous cards were not suitable. Pero and Elliott were delayed due to not having any more photos. Faulkner however was taken to the coast by Macron and was returned to the UK by boat at this time. The next day the two sergeants had their photos taken at a department store. Also on this day they met Capt. Raymond, U.S. Intelligence Officer and where taken to the house of Mme. Germaine, where they were kept for about 23 days. They received new identity cards there and left with a guide named Lucie to Toulouse by rail. They picked up new guides from time to time enroute to Toulouse. Here they spent 22 days at the house of Joseph Corraze, at 30 Rue Dinetard. Guides took them by train to Montrejeau and thence by bicycle to the Pyrenees where they were met by other guides including Belgian helpers and a
British officer
(
Tobias
). They immediately set out to cross the mountains. The crossing took 7 days as they were delayed by the poor health of one of the Belgians. In Spain they stayed hidden a a cave for two days while waiting to contact a driver. From here they started for Barcelona by automobile, but were arrested by police at Gros (
Graus
) where they declared themselves to be escaped prisoners of war. They spent the night in jail and where questioned the next morning as to name, rank and serial number. They gave their actual ranks. They were also asked how much money they had. They were kept here for two days. They were fingerprinted and through a Red Cross representative they contacted the British Vice-Consul at Zaragoza. The Vice-Consul told them that under no circumstances should they declare themselves to be airmen. From here they went to Madrid where they remained for four weeks, then moved to Gibraltar. At Gibraltar they were questioned by a British IO who asked them for all details of their trip, including helpers, etc. From here they reurned to the UK where they arrived on the 31st of July.

Dit is het reisschema zoals Tobias het opgeschreven heeft.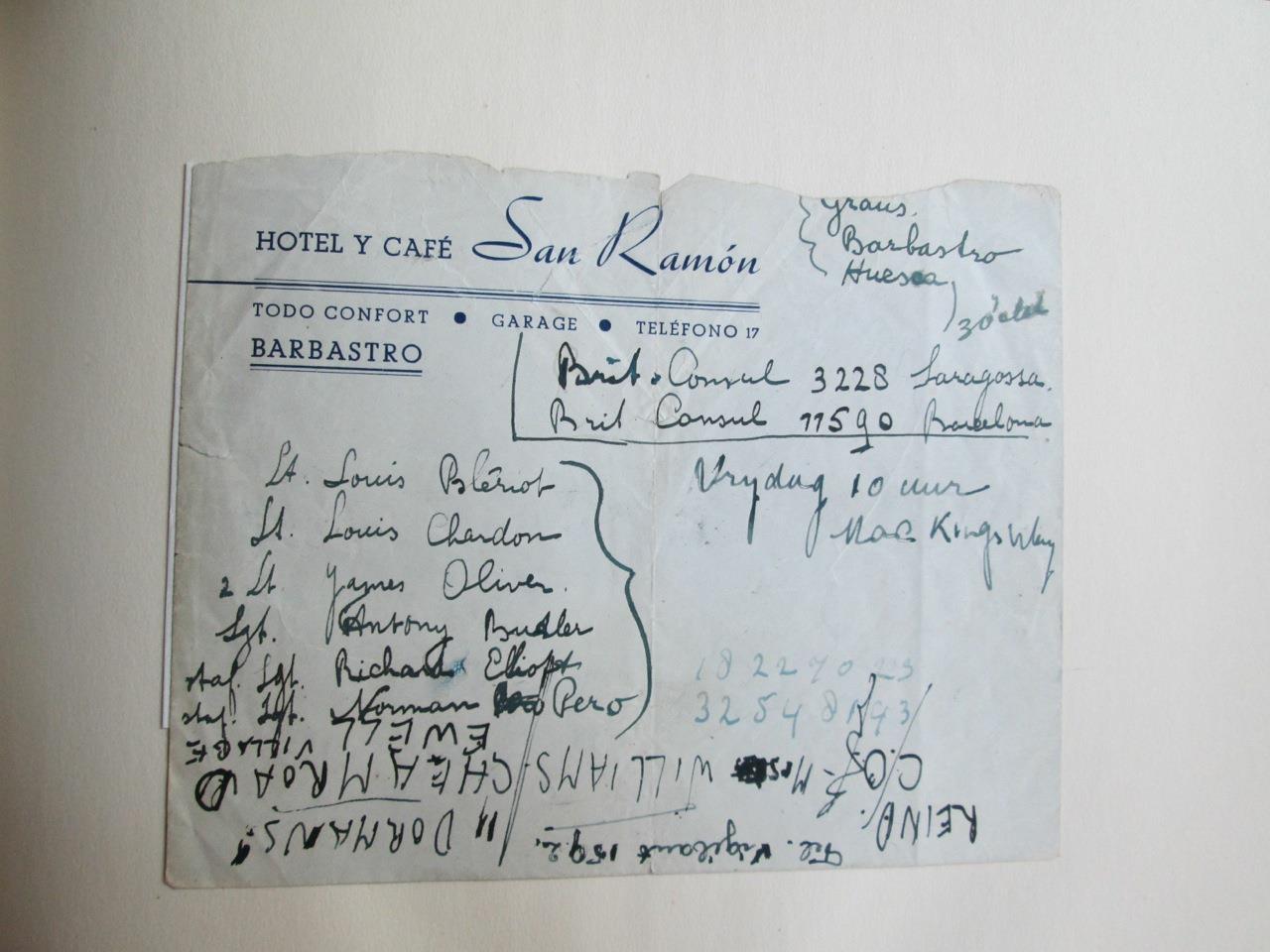 De reisgenoten van Tobias. Hij zelf is 2e Lt. James Oliver.
Hotel San Ramon, Barbastro, Spanje.






Tel. Vigilant 1592
REIN B c.o. Mrs. WILLIAMS

11 DORMANS
CHEAMROAD
EWELL VILLAGE
313 Har..tes Rd.

Swedish Church HARCOURT
Enveloppe op z'n kop.